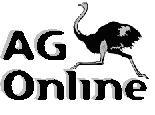 Return to AG Online HomePage
Return to AG Ratite (Bird) Pages

Ostrich Ranch Listing by State

Arizona California Florida Georgia Illinois Indiana Kansas Kentucky
Louisiana Michigan Missouri Nebraska New Mexico Nevada New York North Carolina
Ohio Oklahoma Pennsylvania South Carolina Tennessee Texas Wisconsin West Virginia

Arizona Haidaway Ostrich Ranch
Box 9A Bonita Rt.
Klondyke, AZ 85643
520-828-3558 Arkansas River Valley Exotics
15247 N Hwy 28
Dardanelle, AR 72834
479-477-0434 California Indian Point Ostrich Ranch
P.O. Box 640
Tehachapi, CA 93581
805-822-9131 San Diego Ostrich Farm
2710 Vista Del Sembrado
Escondido, CA 92025
760-489-8978 Florida A Florida Longneck Ranch
8250 Dosonte Lane
N. Fort Myers, FL 33917
800-566-4635 Circle "G" Ostrich Farm
P.O. Box 9
Morriston, FL 32668
352-528-5385 Donco Ostrich Enterprises
610 Victoria Drive
Cape Coral, FL 33904
941-549-1584 GRA JADA Farms
7027 W. Broward Blvd. Ste. 2108
Plantation, FL 33317
Rock Hill Ostrich Ranch
1210 Cottonwood Rd
Cottondale, FL 32431
888-421-1991 Running Bird Ranch
P.O. Box 1181
Geneva, FL 32732
407-349-2573
Email:jmann@iag.net Somerset Farms of Alachua, Inc.
26005 NW 122nd St.
Alachua, FL 32615-3215
Triple SSS Ostrich Farm
RR 1 Box 318-F4
Hawthorne, FL 32640
352-546-1169 Georgia Morey Ranch
3812 Sermons Ln
Hahira, GA 31632
770-466-1161 Warren Ostrich Farm
RR 4, Dry Lake Road
Quitman, GA 31643
912-263-8174 Illinois Heartrich Ostrich
10333 Campbell Rd.
Durand, IL. 61024
Pat Naruz J&H Ostrich Ranch
15224 W. 151st St.
Lockport, IL 60441
708-301-7864 Northpoint Ostrich
40595 Forest View Rd
Wadsworth, IL 60083
847-731-1705 Springer Ostrich
29373 Lagoon Road
Minier, IL 61759
309 449 5774
Indiana Diamond C Ostrich Farm
18800 W. 12th Rd
Plymouth, IN 46563
219-936-9624 M & J Ostrich Farm
5075 N 850 E
Attica, IN 47918
317-572-2302 Sweetie Bird Ranch
RR3
Portland, IN 47371
219-726-2698 Kansas Red Barn Ostrich Farm / Bed & Breakfast
Bob & Sue Johnson
6427 N. Greenwich Rd.
Wichita, KS 67226
316-744-9800
FAX: 316-744-7578
email: rbof@feist.com
Robert Dan Larock - Ostrich Farmer and Hide Buyer
11450 N. 151 Street West
Sedgwick, KS 67135
email: danl@feist.com
Kentucky Three Fork Creek Ostrich Ranch
1010 Cross Rd
Corinth, KY
502-484-5462
FAX 502-484-2473
email: gjsostrichranch@kih.net Louisiana Blalock Enterprises
4220 Vernon Rd
Zachary, LA 70791
504-654-0253 Michigan Happy Eggers Ostrich Farm
2920 Redbud Trail South
Niles, MI 49120
616-695-7155 Wild Dream Ostrich Ranch
10332 Singer Lake Rd
Baroda, MI 49101
616-422-1211 Missouri Nebraska Hobbit Hollow Ostrich Farm
440 County Rd. 19
Hooper, NE 68031
402-654-2785 New Mexico Desert Flower Ltd.
P.O. Box 99
Rincom, NM 87940
505-526-9087 Nevada Diamond G Ostrich Ranch
P.O. Box 2057
Winnemucca, NV 89446
702-623-5517 Rancho Las Plumas de los Avestruces
245 Liberty St. #440
Reno, NV 89501
New York Great Lakes Ostrich Ranch
8637 Cottage Rd
South Dayton, NY 14138
716-988-3540 North Carolina ACES Ostrich Farm
LLC, P.O. Box 7772
High Point, NC 27264
910-841-5505 Birdbrain Ostrich Ranch Inc.
Home of the "Stallion Stix" (ready to eat ostrich meat snack)
6691 Little Mountain Road
Sherrills Ford, NC 28673
Phone: 704-483-1620
Toll free order#: 877-733-STIX
FAX: 704-483-8585
Email: BOR@ bellsouth.net
Flower Hill Ostrich Farm
7877 Flower Hill Road
Middlesex, NC 27557
919-284-5045
email: "mbostrich@coastalnet.com"
Fox Ostrich Ranch, Inc.
1637 10th St. Place NW
Hickory, NC 28601
704-328-4000 Just Birds Ostrich Farm
Rt. 1 Box 51B
Godwin, NC 28344
910-980-1730 Oak View Farm
403 County Line Road
Stony Point, NC 28678
704-585-9716
email: auggdawg@aol.com
Tracy Patterson
Debbie Brown
Ohio Jett Hill Farm, Inc
2509 Jett Hill Rd.
New Richmond, OH 45157
513-553-0060 Oak Harbor Ostrich Farm
5199 Oak Harbor Rd
Oak Harbor, OH 43449
419-898-3602 Oklahoma Double D Ostrich Ranch
P.O. Box 255
Salina, OK 74365
918-434-5556 Running WB Ranch
RR 2 Box 279
, OK
405-622-2321 Pennsylvania M.T. Nest Ostrich Ranch
R. 1 Box 63C
Hegins, PA 17938
South Carolina Aces Ostrich Farm
LLC, Rt. 3 Box 466
Walterboro, SC 29488
803-538-2702 Tidesmeet Ostrich Farm, Inc.
5033 Trexler Ave.
Meggett, SC 29449
Tennessee Bird House Exotic Ranch
Gary & Jannis Gray
427 Anderson Road
Sweetwater, TN 37874
Email...jgray61185@aol.com
Texas Alamo Longneck Ostrich Corporation
6307 Firestone Parkway
San Antonio, TX 78244
email: DandJWOLFE@aol.com Carolinda Ranch
Carol Garnett
6860 FM 2445
Navasota, Texas 77868
(936) 894-2431
Carolindar@AOL.com Dancing Bird Ranch
Bill and Joan Konecny
10314 County Road 417A
Navasota, Texas 77868
936-870-3348 Promised Land Ostrich Ranch
8167 East Hwy. 180
Hermleigh, TX 79526
915-573-4259 Westmoreland Ranch
Jim & Dianna Westmoreland
10114 CR 314
Navasota, Texas 77868
936 / 825-8095
ostrich@txcyber.com Wisconsin Kettle Moraine Ostrich Ranch
W 469 Pine Dr.
Palmyra, WI 53156
West Virginia Longstriders Farm
RR 1 Box 226
Independence, WV 26374
304-864-3964

This page last updated - 7/28/2011

---
If your ranch isn't here, Email us and we'll add it free.
(or we can add a link to your ranch for a fee)
$25/year for a text link in the body of this page.
$35/year for a graphic link at the top of this page and a text link.
---
We can design a web site for you free and keep it on our server for just $15/month.
---
or
Call 1-208-684-9831
or
Mail to:
AG Online
73 South 800 West
Blackfoot, Idaho 83221